Chicago Wicker Park Kitchen Remodel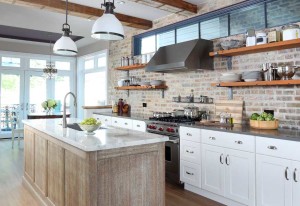 Laura and Matt had been slowly renovating their Chicago Wicker Park home themselves, and had put off updating the kitchen; knowing that it would pose the most significant challenge to create a design that would fit their modern personalities without it being out of place in their vintage home.
They began working with Normandy Remodeling Designer Kathryn O'Donovan to develop a plan that capitalized on the open layout of the area, as well as the newly exposed brick they had uncovered behind an old plaster wall.  Kathryn suggested adding a transom window at the top of the brick wall to break up the material and give it a bit more of a modern "loft" vibe.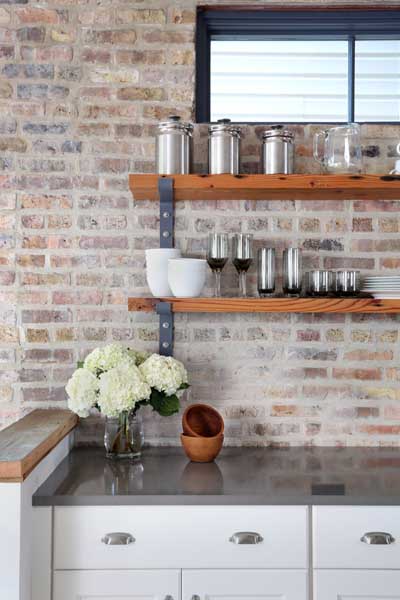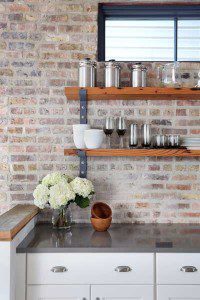 "Adding open shelves instead of wall cabinets to showcase as much of the brick as possible was a natural choice," commented Kathryn.  "Using reclaimed wood for the open shelves kept with the overall theme of the kitchen and ties into the reclaimed timber beams on the ceiling."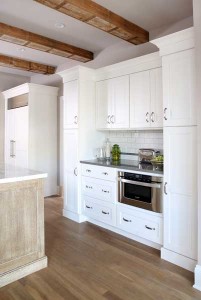 To bring a more modern element into the kitchen, Kathryn designed simple, soft white cabinets on the perimeter of the room.  She also chose two different countertops for the different areas of the kitchen.  One countertop is a quartz that mimics the look of concrete, but without the maintenance concerns;  and a Calcutta marble was chosen for the distressed island cabinets.
"The island cabinetry is a white rift coat oak that is distressed and finished beautifully to look like reclaimed wood," says Kathryn.  "We selected an equally beautiful slab of Calacatta marble to accompany this vintage looking piece that looks like it was saved from a Provencial Villa."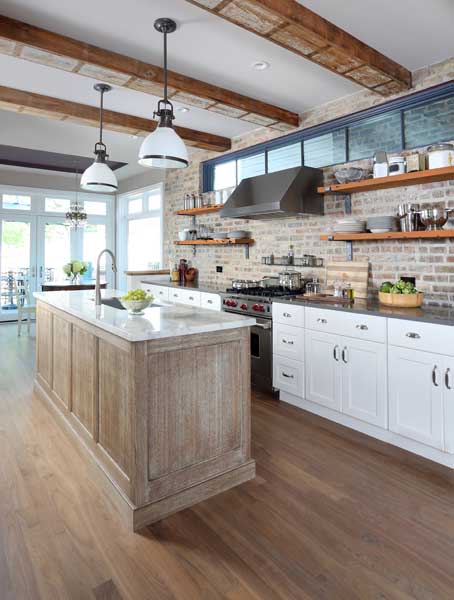 This eclectic kitchen is a study in textures, from the deeply distressed rift cut white oak island cabinets, to the exposed brick walls, to the polished countertops.  The reclaimed wood beams and open shelves pair well with the polished sophistication of the simple off white cabinets.
Creating a kitchen that's the perfect blend of your personality and your home starts with a conversation.  Schedule a meeting to talk with Kathryn about your kitchen, or learn a bit more by registering for one of our upcoming kitchen remodeling seminars.  Not quite ready yet?  See more case study transformations.