LaGrange Victorian Home Addition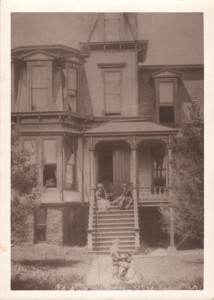 Suzanne and Phillip love the history and beauty of their 1850′s vintage Victorian style home in LaGrange, but found that it lacked some of the modern-day amenities and needed an update.  Their detached garage was in need of attention, the original copper turret had been replaced at some point in the home's history, and they were hoping to add a true Master Suite to this elegant home.
They began working with Normandy Remodeling designer Troy Pavelka to address some of the updates that the home needed, without sacrificing any of the historic charm and detail that they loved so much.
Troy developed a plan that added a two car garage with generous storage space, master bedroom and bathroom, and even a home office on the second floor that is accessed via a spiral staircase.

With painstaking attention to detail, products were sourced from around the world, and custom created to perfectly match the details of the existing home.  In fact, it is nearly impossible to decipher where the original home ends and where the addition begins.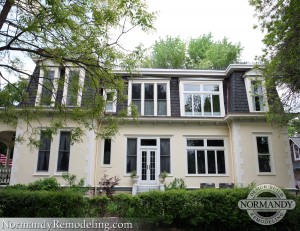 The attention to detail extends throughout the interior of the home with vintage push-button light switches, antique door knobs and hinges, and other details that are found throughout the room additions.
One of the most striking elements in this home remodel is the copper turret.  The home's original turret had been replaced at some point in its history, and the replacement turret matches the grand aesthetic of the house, and even adds a unique design element to the home's interior.
You can visit our photo galleries to see even more home additions and renovations, or learn what to expect when you remodel at one of our upcoming seminars.