Popular Hinsdale Concert Series Returns This Summer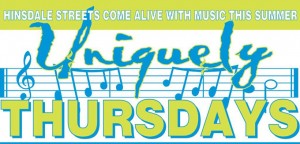 Hinsdale's "Uniquely Thursdays" are returning again for the 10th summer in a row.  The concert series features a variety of music provided by ten different bands.  The family-friendly event is sponsored by local businesses, including Hinsdale-based, Normandy Remodeling.  Normandy will be giving away different items each week to the kids and have a raffle giving adult attendees a chance to win an iPad at the end of the series.
"Normandy Remodeling is happy to be able to support the community and be involved in Uniquely Thursdays," commented Andy Wells, Co-Owner of Normandy Remodeling. "We're looking forward to a fun summer in Hinsdale and are excited to spend time with our many currents and past customers of Hinsdale."  Normandy Remodeling has completed over 400 remodeling jobs within the village of Hinsdale in its 33-year history.
Uniquely Thursdays begin Thursday, June 14th at 6:00 p.m. – 9:00 p.m. in Burlington Park.  Show up early to get a good seat and enjoy the music every Thursday until
August 16th.  Food and beverages will be available each Thursday from various vendors.
For more information about Uniquely Thursdays, click here.