Naperville Kitchen Makeover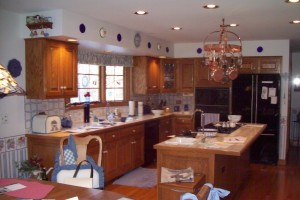 This kitchen was not unlike many that you can find in Naperville homes, it is reasonable in size, but has the original builder-grade cabinets and a layout that isn't always the most ideal.  The homeowners felt it was time for a change and began working with Normandy Remodeling on their kitchen renovation.
Normandy Designer Jennifer Runner, AKBD adjusted the layout, removed the soffits, and worked with the clients to select colors that brought warmth and an updated style to the kitchen.  "For the perimeter cabinets, we selected a painted maple cabinet with an espresso glaze," says Jennifer.  "We then used the same glaze on the stained cherry island which offers some contrast, but still maintains consistency in the color palette of the room."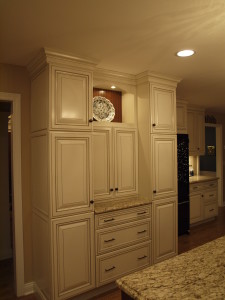 The large island has two different countertop levels to help visually break up the long expanse and accommodate the varying heights of the residents. The decorative feet on the island and the leaded glass doors make the piece feel more like furniture than cabinetry.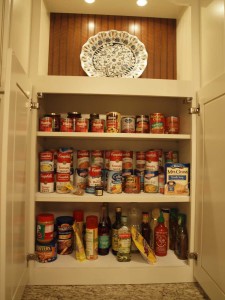 The relocation of the refrigerator provided the necessary room for the professional range and custom range hood.  Details in the space include a backsplash of tumbled marble with cast metal accent tiles to add texture and interest.
Pantry cabinets have a variety of depths to accommodate the varying size of the contents and to create an attractive display area for the client's artwork.  The relocation of the refrigerator to this wall opens up the room and adds to the feeling of spaciousness.   A message center at the entry of the room gives the family a designated "landing space" which also helps to eliminate clutter from encroaching on the rest of the kitchen.