For a Great Galley Kitchen, Let There Be Light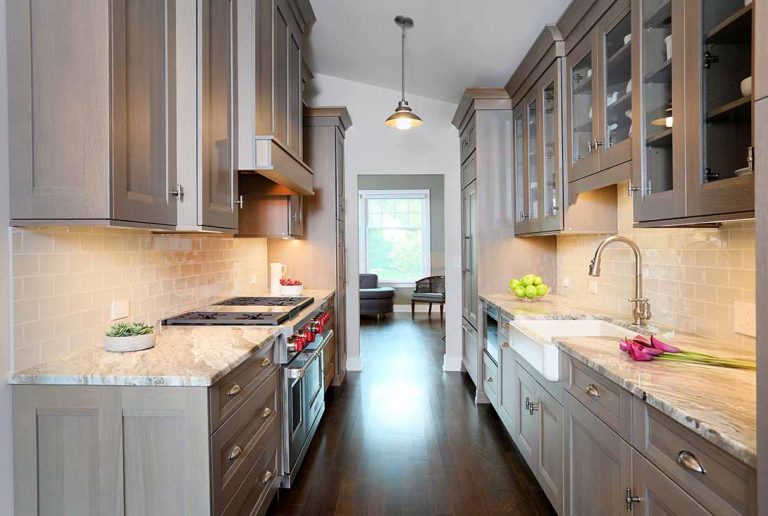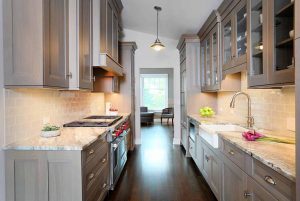 The secret to a great galley kitchen just might be lighting. Galley kitchens have a reputation for being cramped and dark. The way to remedy this is to play with light.
"In this kitchen for example, we had to stay within the original footprint. The wall between the kitchen and the living space housed the plumbing and HVAC system for the second floor so it needed to stay in place," said Normandy Designer Liz Reifschneider. "But I knew I could make it bright and inviting by installing the right lighting that could play off the natural light pouring in from the windows at the end."
This kitchen ends in a bank of windows letting natural light fill the space. The choice of a light wood cabinet color helps to keep things feeling bright all day long. At night, the pendant light above the sink and the chandelier above the table can work with the under cabinet and can lights in the ceiling to strike the perfect mood for entertaining, or create and abundance of light for food prep.
If you are looking to transform your kitchen or any other part of your home, set up a time with Liz to talk about your project. You can also learn more about kitchens at an upcoming workshop. Check out the photo gallery or follow Normandy Remodeling on Instagram and Facebook or even more home tips and inspiration.