Kitchen Remodeling Trends to Look for in 2018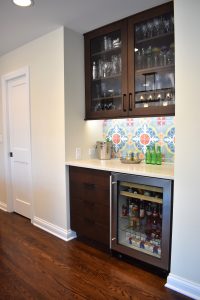 The number one request is a kitchen design that will withstand the test of time. So it's no surprise that the theme projected for 2018 kitchen remodeling is timeless without being tired. Spaces will feature plenty of classic design decisions, but with an edge. Think new tile patterns, mixing up finishes and bolder choices for hardware. So, are you ready for the specifics? According to our Normandy Design Team, here's what you'll be seeing a lot of this year.
Decorated Tile – Geometric, floral or arabesque –no pattern is off limits. These highly decorated tiles work really well above the range or near a beverage center. They add personality and interest to your space. In addition to an abundance of  patterns, there are also plenty of tile options, including ceramic, glass and cement.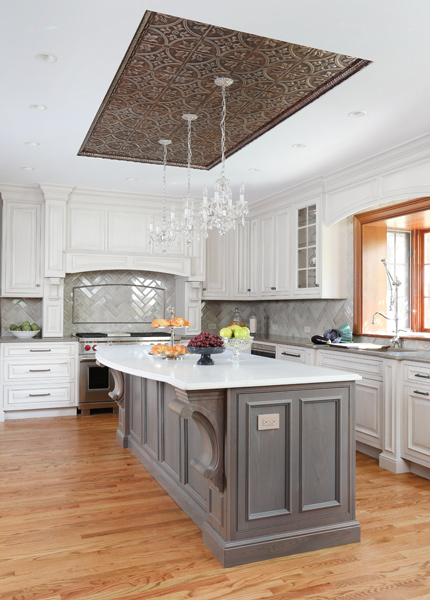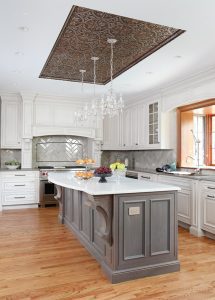 Tin Ceilings – Punch up your ceiling with some tin tiles. There are plenty of elaborate patterns and finishes to match the overall aesthetic of your kitchen. This design idea looks great over an island or eating area. Pair with a unique light fixture for even more of a statement.
Mixed Finishes – Mixing up island and perimeter cabinetry finishes has been happening for some time now. But now, we're taking it one step further and varying base and wall colors and materials too. With so many combinations to choose from, this is a design decision that works well in modern, eclectic and traditional spaces.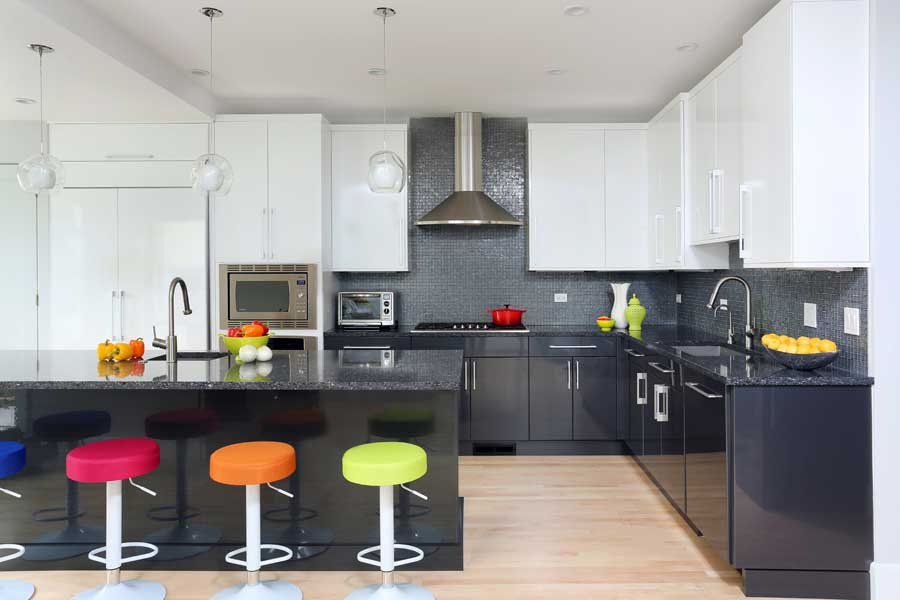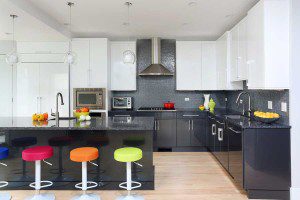 Gold & Rose Gold Hardware – Gold and rose gold pulls and knobs are having their time to shine. This is a metal that will give your kitchen a stylish and luxurious appeal. When opting for white or gray cabinetry, adding gold hardware is a great way to add warmth.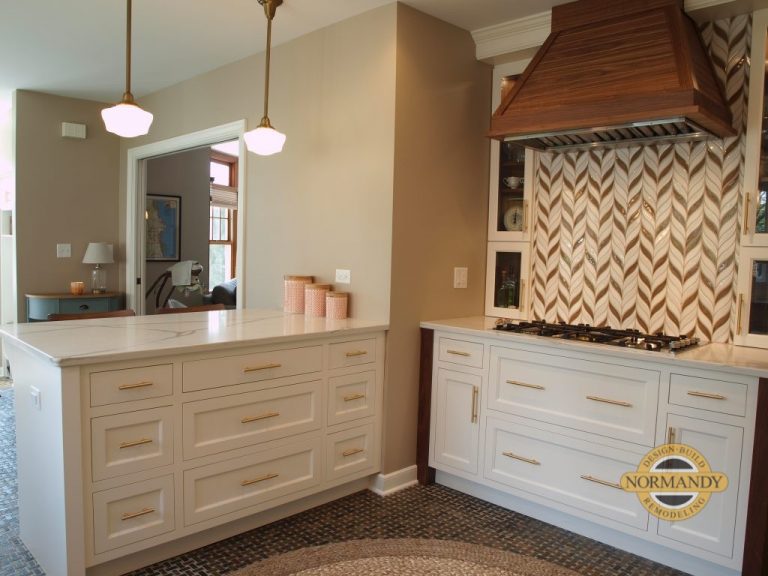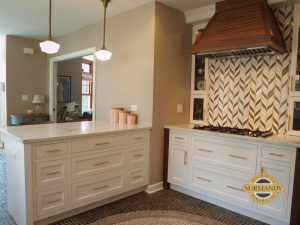 Herringbone Patterns – Herringbone is stylish and classic. There are plenty of ways to have some fun with this pattern, including tile size and color. It works well as a backsplash, flooring or even as a ceiling detail.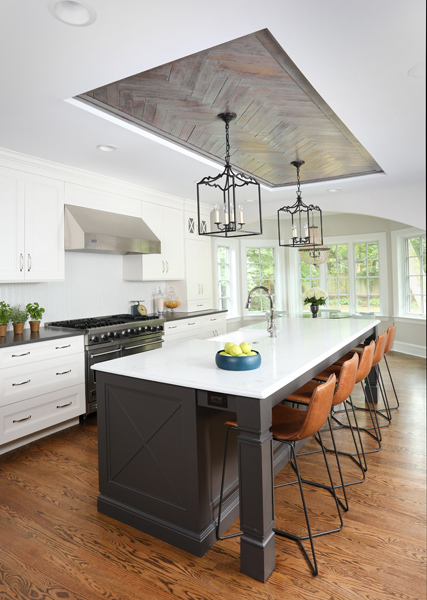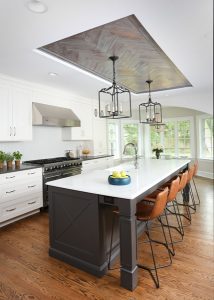 Elongated Subway Tile – Subway tile has been in the mainstream for some time now. But in 2018 you can expect to see it with a more elongated shape, like a 4×16 tile. For reference, 3×6 is a standard subway tile size.
Toe Kicks & Fancy Feet – New twists on toe kicks include stainless steel or arched detailing. These can be a nice way to further enhance cabinetry feet. When it comes to cabinetry feet, trends are moving away from traditional bun feet and options for a sleek, square design instead.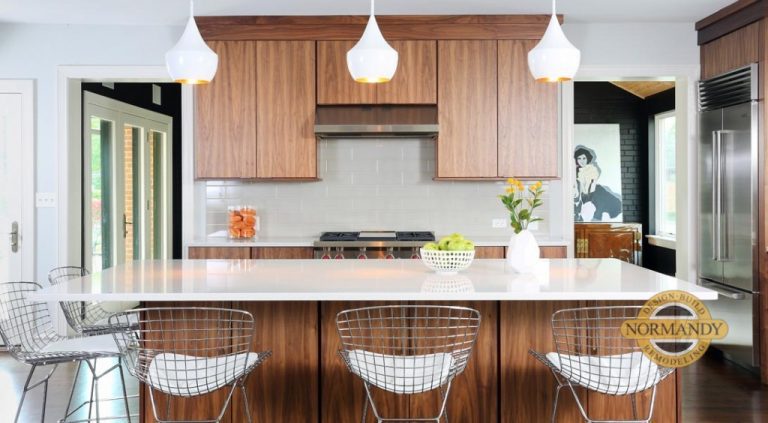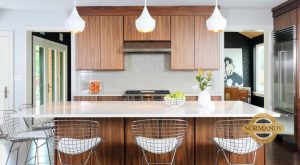 Textured Tile – Textured tile adds style and interest in a subtle way. Some tile options are three-dimensional, while others have a color and finish combination that gives the appearance of fabric, like corduroy or linen.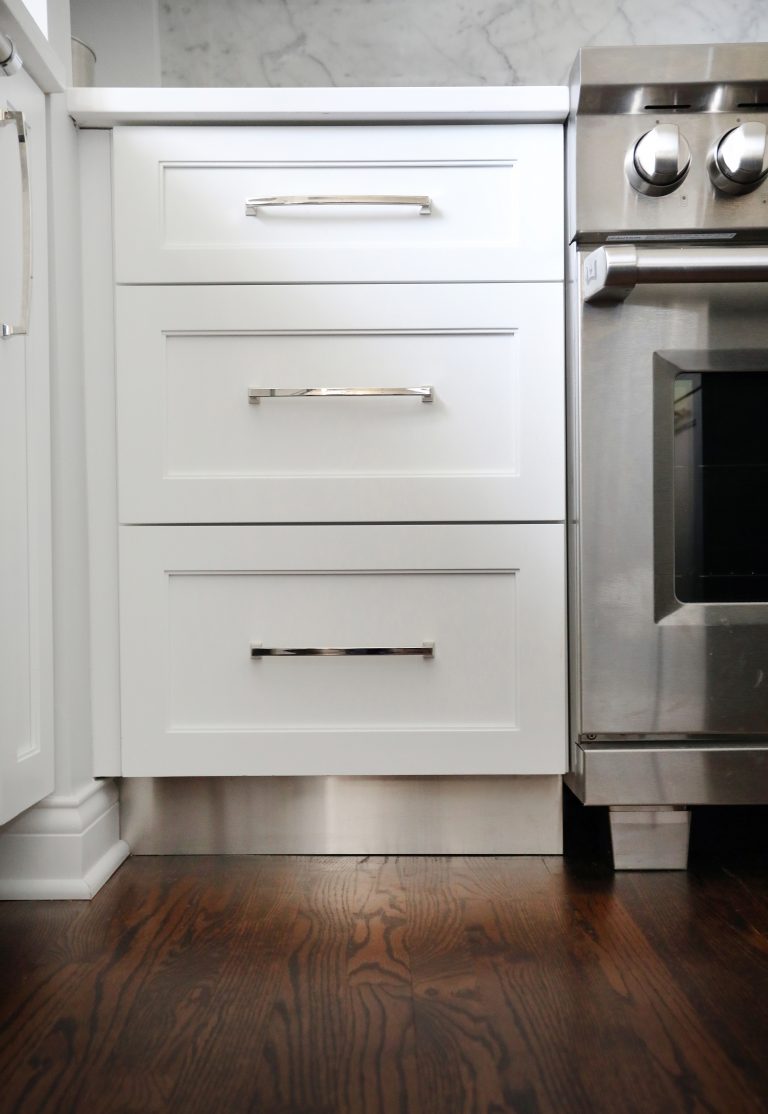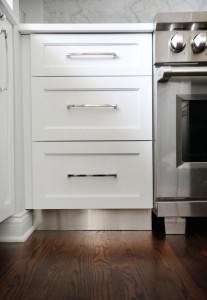 Chalk Boards – Instead of an unsightly white board, kitchens are now featuring chalk message boards. These can be painted on the wall, or framed.  It's a cute way to jot down family updates or grocery lists.
We hope these ideas have sparked interest and excitement to remodel your kitchen. Set up a time to meet with a Normandy Designer to discuss the trends we've mentioned and how to incorporate them into your space. You can also register to attend an upcoming workshop to learn more about the kitchen remodeling process or follow Normandy Remodeling on Facebook, Twitter and Instagram for more photos and remodeling insights.