Keys to Picking Out Light Fixtures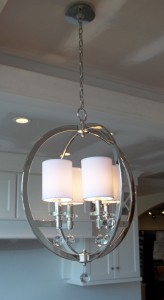 Picking out the right light fixture for your space can be challenging – What color should it be?  How big should it be?  What style should it be? – These are some of the questions that were posed when I talked with award-winning, Normandy Designer Chris Ebert, to get his take on expert light fixture selection.  The first thing Chris said to take into consideration when selecting a fixture is the other metals in the space, such as appliances, the hardware on cabinetry, sinks, and so on; making sure that there's a sense of continuity between all the metals is key for a cohesive look.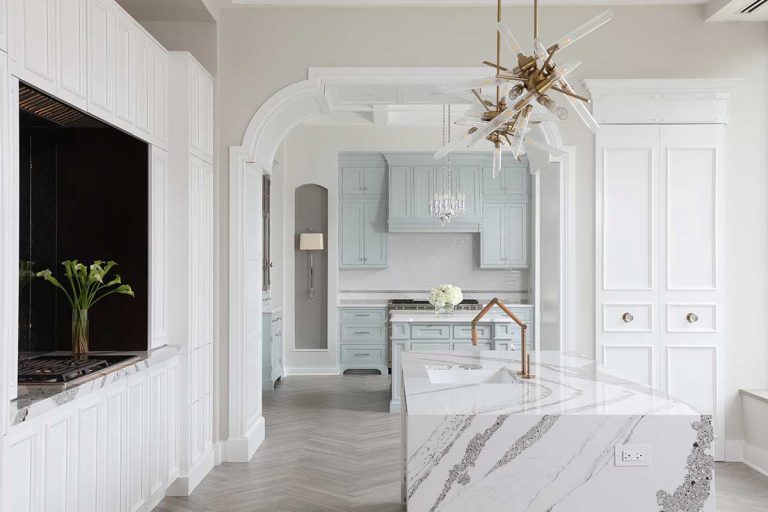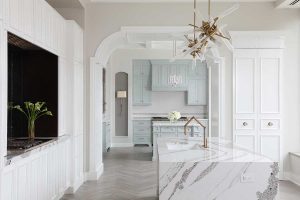 One decision that can be nerve-wracking is selecting the size of the fixture; Chris was able to point out why that poses a problem for many homeowners.  "When you're looking at a fixture in a store, it's usually in a big warehouse-type building, way bigger than your home," says Chris, "So you really need to keep in mind the size of the space you're working with, and the size and scale of light fixture that's appropriate, without looking overwhelming or inadequate.  Additionally, you need to make sure the fixture is not going to be directly in your line of sight and become a nuisance."  Another aspect to keep in mind is how much light you need and want the fixture to provide.  "I always try to convey how important lighting is to a space," commented Chris, "It makes a space come alive, makes a space special and unique and great lighting makes working in a space easier and safer."
Next option:  exposed vs. shaded bulbs.  Exposed bulbs can enhance a contemporary look in a room, but can also be overly bright.  Chris points out that it could be an issue of placement, you don't want to be sitting at a dining table and look straight into bulbs; it's best to have the bulbs exposed at the top. On the same note, it's important to know that certain shades on light fixtures can dramatically affect the lighting in a room.  "Sometimes people think their copper-colored crystal shades will flatter the warmth in a room, but forget that the fixture will throw that copper color light throughout, and possibly make that lighting alone inadequate for the room," says Chris, "If you want good light, go with light color shades – white shades give off the lightest."
Finally, I had Chris go through some Normandy projects and select a few of his favorite light fixtures.  They're all stunning, in part because they all follow the guidelines mentioned above.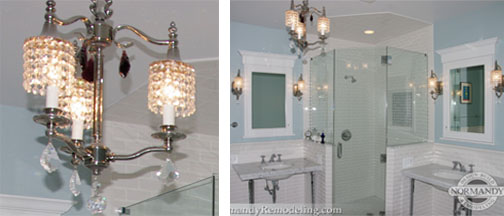 1.  "Light fixtures don't only have to provide
task lighting; they can also be jewelry,
which is the case with these vintage light fixtures."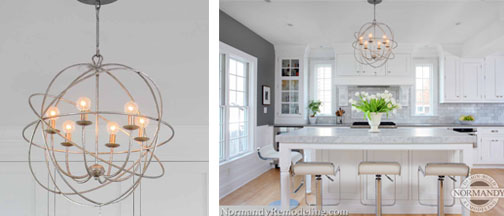 2. "I love the scale of the light, it's large and
decorative, but you're also able to see through it.
Additionally, it's centered well in the space."
3.  "This kitchen features two types of main light fixtures,
providing two meanings to the island, task and decorative.
The genres mix well together, making it a more interesting space."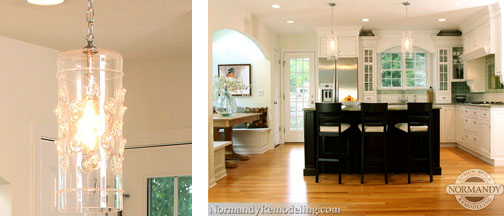 4.  "I like the spacing and placement of these fixtures,
they're transparent so you can stand and look around/through
them without feeling like the fixtures are in your face.
The right light fixture can affect the ambiance of your space, so you want to make sure you choose right one.If you are looking to remodel your kitchen or contemplating more extensive changes to your home, you can set up a time with Chris to talk about the possibilities. You can also learn more about additions, kitchens, or other remodeling projects at an upcoming workshop. Check out the photo gallery or follow Normandy Remodeling on Facebook and Instagram for even more home tips and inspiration.