Celebrating the Building's History for the New North Shore Design Studio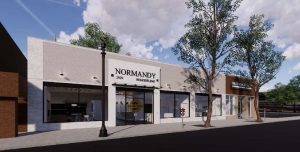 A visit to the design studio as you prepare for a remodel can be exciting, productive, and just plain fun. But for a large portion of our clients from the North Shore, we know that making the trek to Hinsdale, even only a few times, can be a hassle. We've known for quite a few years that we needed to bring the design studio to them, and have been on the lookout for just the right space.
After considering quite a few locations over the years, we finally found the perfect building. It was just the right size, had a parking lot, and the location on Central Street in Evanston (just West of Green Bay Road) is much easier for our North Shore clients to reach. The building itself was in need of some TLC, but as you can image, we welcomed that challenge.
"There is just something electric about walking into a building and seeing it not for what it is, but for what it can become," said Normandy President Andy Wells. "We have been in the business for 40 years, and we know the amazing feeling that comes when you are able to bring out the very best in a building."
The new design studio was originally constructed in the late 1940's as a grocery store. Over the years, the building has changed somewhat to accommodate its various tenants. One third of the building was converted into a bank more than 25 years ago, and is still a bank to this day. The remaining area that has become the Normandy Design Studio has previously been a paint retailer and most recently, a real estate office.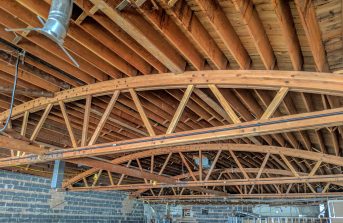 "It's amazing how much rich history can come to light when you bring out the sledgehammer and tear down a few walls," said Andy. "In our case it was a drop ceiling."
During our pre-construction exploration, we took down a portion of the office's drop ceiling and discovered a tin ceiling that most likely had a unique story of its own. We were disappointed that the tin ceiling was in poor shape and needed to come down, but what it concealed turned out to be an even better surprise. Above the tin ceiling, we found that the structural beams holding up the barrel roof were beautiful solid wood bow trusses.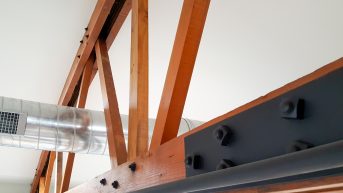 The discovery of these original elements immediately began to influence the design of the entire space. We dreamt of lofty and open spaces, and the way we would connect the building to its past, while bringing it into today's aesthetic.
We installed large skylights that create an abundance of natural light to flood the space and found other ways to highlight these historic treasures. Structural columns in the building were wrapped in first growth Douglas Fir from a 120 year old factory. A perfect complement to the 70 year old bow truss beams.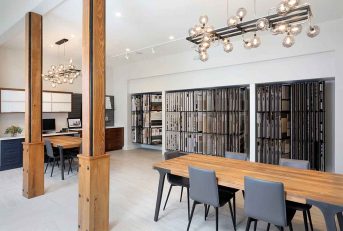 The North Shore design studio is a marriage of modern and traditional in every corner of the 7,000 square foot space. It's the perfect location for our clients to review their plans, make selections for their upcoming projects, or just meet with their designer to discuss the possibilities.
We'd love to give you a tour of the space and talk about what hidden historic gems you might be able to find in your own home. Set up a time to talk with a designer, or find inspiration online via Facebook, Twitter, Instagram or Houzz