Casement Windows vs Double Hung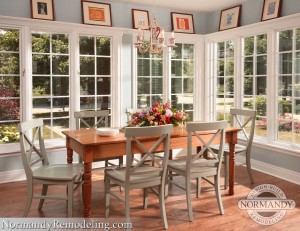 No home can be complete without windows. They play an essential part and have a significant influence on the function and look of your home. Windows come in different shapes and sizes, but casement and double-hung are two types of windows that you'll likely encounter the most. What's the difference between these windows, and which is right for you?
Casement windows use cranks to open and close and extend on the outside of your home. Double-hung windows move up and down in a frame.
When comparing both window styles, an important difference between the two is that double-hung windows have screens on the outside of the window, while casement windows have the screen on the inside. "Choosing between casement windows and double-hung windows is really based on personal preference for the most part," says Normandy Designer Leslie Molloy, CKD.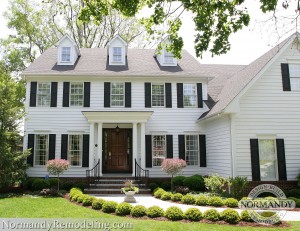 "Casement windows add more architectural detail to a home, which some people are really drawn to.  Also, if you're a big "open the windows and let the fresh air in" person, you may prefer casement windows because the whole window opens up. Whereas with double-hung, only half the window opens; however, some people find opening double-hung to be more convenient for that reason. "
"In regards to cost, casement windows will typically cost a little more," noted Leslie, "But that's not always the case depending on different variables, such as the brand you choose."
Choosing the right window is just one of the details to consider when remodeling or adding to your home. To find out what is right for your home, you can schedule a time to meet with one of Normandy's talented Designers, like Leslie Molloy, CKD, or register for an upcoming workshop to get your inspiration flowing! Check out the photo gallery or follow Normandy Remodeling on Facebook, Twitter, and Instagram for even more home tips and inspiration.