Brown Irish Soda Bread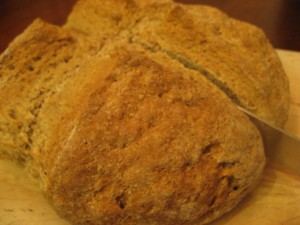 In honor of St. Patrick's Day, I began searching for an authentic Irish Soda Bread recipe that I could create for my family.  Proving once again that it's not what you know, but who you know, I found just what I was looking for from Normandy Designer Kathryn O'Donovan.  Kathryn was raised in Ireland and I was thrilled to find that she did indeed have a good traditional recipe she could share with me. She forwarded this along, and the only payment she required of me was a quarter of the finished loaf (which I happily provided).  I found this to be very quick and easy to make and know that it will make a great addition to our holiday.  Enjoy!
Brown Irish Soda Bread Recipe
Soda bread is best eaten on the day of baking, but it slices better if left to cool and "set" for several hours. It is delicious with good butter, farmhouse cheese, and some crisp sticks of celery or a bowl of homemade soup.
Makes 1 loaf
450g/ 1lb/ 4 cups wholemeal (whole-wheat) flour
175g/ 6oz/ 1-1/2 cups plain (all purpose) flour
7.5ml/ 1-1/2 tsp bicarbonate of soda (baking soda)
5ml/ 1 tsp salt
About 450ml/ 3/4 pint/ scant 2 cups of buttermilk
*Variation Cream of tartar can be added to the dry ingredients to provide the acid instead of buttermilk.
1. Preheat the oven to 200C/ 400F and grease a baking sheet. Combine the dry ingredients into a mixing bowl and stir in enough buttermilk to make a fairly soft dough. Turn onto a work surface dusted with wholemeal flour and knead lightly until smooth.
2. Form the dough into a circle, about 4cm/ 1-1/2″ thick. Lay on the baking sheet and mark a DEEP cross in the top with a floured knife
3. Bake for about 45mins, or until the bread is browned and sounds hollow when tapped on the base. Cool on a wire rack. If a soft crust is preferred, wrap the loaf in a clean dishtowel while cooling.