AAUW Home Tour Features Remodeled Normandy Home With Latest Design Trends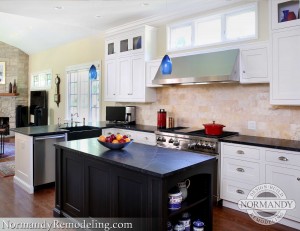 Preparations for the 62nd Annual AAUW (American Association of University Women) Home Tour are coming together, and this year's tour promises to be a highlight of the Hinsdale area fall calendar.  The Home Tour will feature five spectacular homes, including a home with a recently remodeled kitchen and bathroom that incorporates some of the hottest trends in the industry.  "This home, in particular, will be great for those looking for inspiration for their own homes," says Normandy Designer Ann Stockard.
"White kitchens are not only a current trend, but have been popular for decades with no end to their appeal insight," commented Ann. "In this white kitchen, we chose a dark island to create interest in the space and complement the dark countertops.  We partially removed walls to create an open concept, which is a route so many homeowners are going.  It also features unique storage throughout the space for those with a smaller kitchen looking for organization ideas."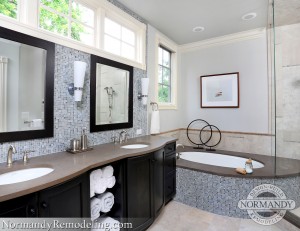 "Moving onto the bathroom, attendees of the walk will notice an immediate soothing aesthetic in a contemporary design," noted Ann.  "The remodeled bathroom features a gray palette, which has really become the new beige over the past few years.  It also features beautiful tile mosaic accents throughout and an overall unique layout for a bathroom – again, a great space for those looking for inspiration."
The AAUW Home Tour will take place on Sunday, September 29, 2012, from 11 a.m. to 5 p.m. and really gives attendees a "personal look" into some beautiful homes! Purchase tickets online or at select businesses for this fundraiser, it's sure to be a fun time, not to mention for a great local cause!