Top Ten 2014 Bathroom Trends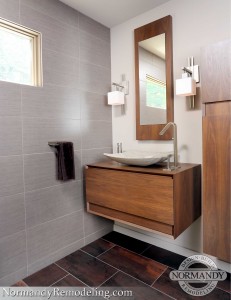 In 2014 bathroom remodels are starting to really tailor to the homeowners' lifestyles with the theme of an "at-home luxury" bathroom becoming a must-have.  People want a space that they feel comfortable in, between the fixtures they're choosing to the color schemes.  Below are the top 10 bathroom trends identified by our team of award-winning designers.
Large tiles for flooring.  This means smaller grout lines and less maintenance for homeowners
Custom showers.  Homeowners are opting for bigger showers that include elements that fit their personal taste, whether that be pebble flooring, niches, benches, body sprays – you name it.  It's about making the bathroom their version of an at-home spa.
Freestanding bathtubs.  People are incorporating this classic element in place of the whirlpool tubs with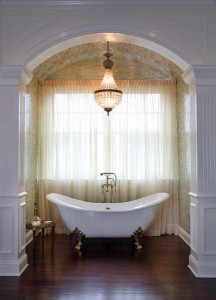 tub decks.
Polished nickel fixtures.  The fixtures complement a variety of color schemes and homeowners are finding them to be a good investment.
Glass tile backsplash.  Whether it's used as a focal point in the shower or an accent around the bathroom, glass tile adds a touch of glam and sparkle to a space.
Frameless glass showers.  This design element makes the bathroom look more open and spacious.
Heated floors.  Especially for Chicago area homeowners that endure cold winters, heated floors take the chill out of cold tile floors.
Freestanding vanities.  These vanities give the appearance of free-standing furniture and can lend an eclectic or found furniture look to a bathroom.
Natural colors.  Homeowners find soft blues, tans, and greens in the bathroom to be soothing and help create a spa-like aesthetic.
Zero threshold showers.  Elements like this are becoming more popular as homeowners decide to age in place.
Find some more bathroom remodeling inspiration, or sign up for an upcoming seminar to get your bathroom to remodel started out right.