Good Things Come in Thirds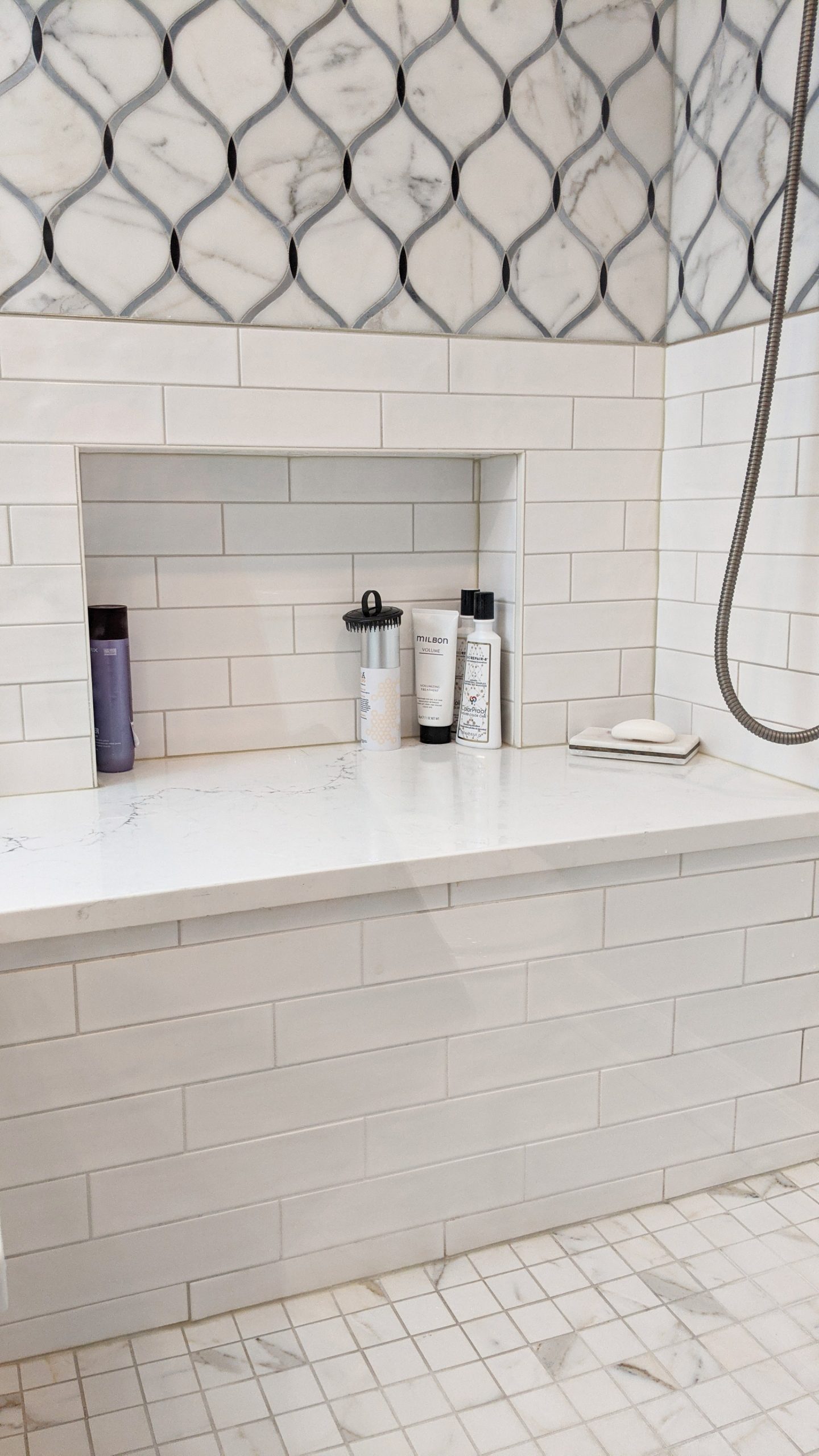 Selecting the right tile for your kitchen or bath remodel is an opportunity to really create texture and dimension in the room. But there's more to tile than just its shape and size. The way tile is set can create a completely new effect. Normandy Designer Becca Ruggiero says that a typical brick lay tile installation is the look we're all familiar with, but for a unique appeal, the 1/3 offset installation is turning heads.
"The 1/3 offset tile pattern is installed where the edge of the tile is shifted by a third in each row, rather than a half, which is found in a traditional brick lay pattern," Becca says.
For a fresh take on your traditional or transitional kitchen or bathroom, a 1/3 offset tile pattern on the backsplash, or the floors adds interest and that polished, designer feel.
"Typically, in ultra-modern rooms, we'll use a stacked or 'straight set' installation for the tile, where all the edges match up. However, if you don't consider yourself super modern, but do lean contemporary, I suggest the 1/3 offset," says Becca. "This way you're still getting the feel of a classic tile pattern but with a fresh twist."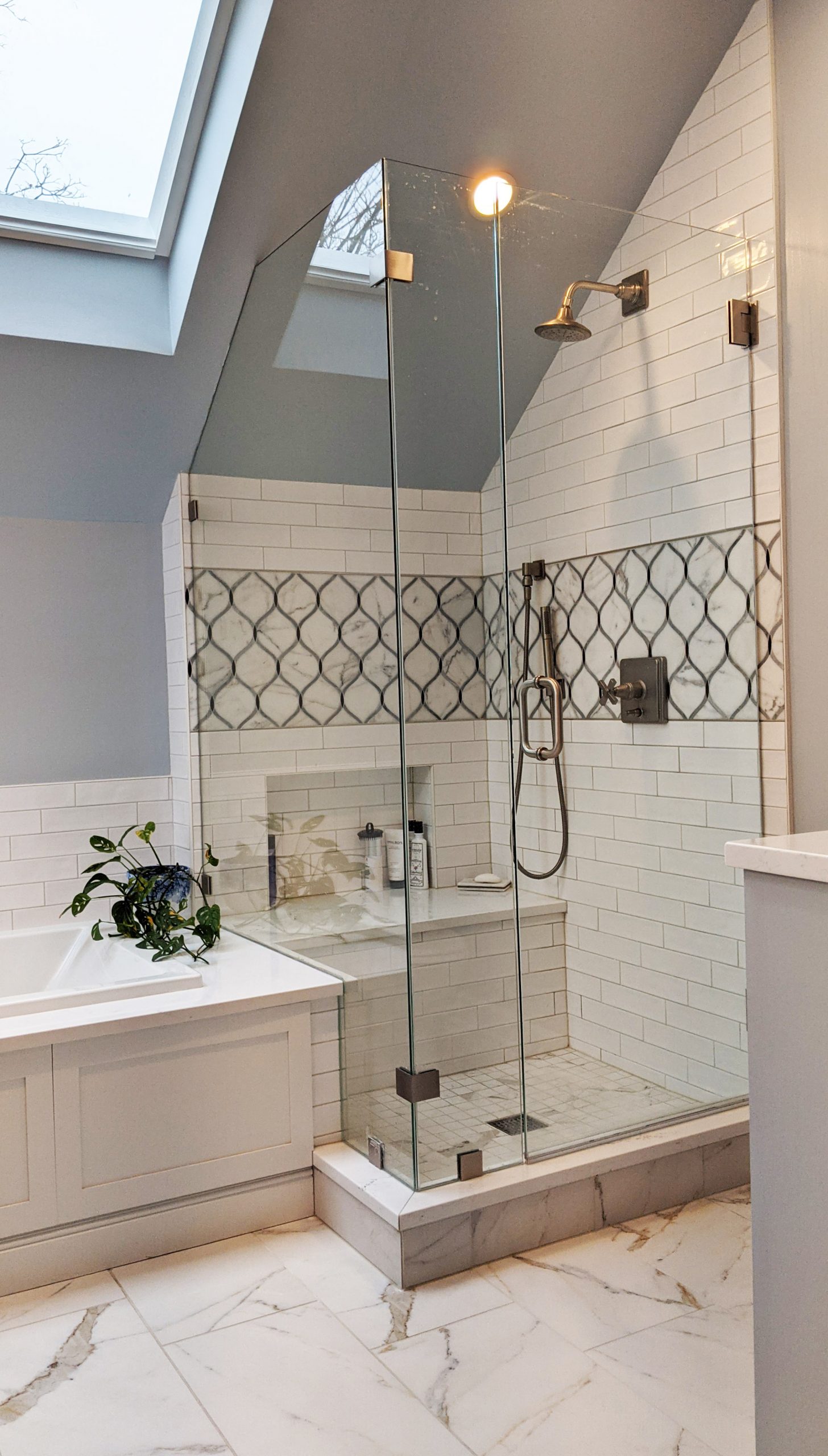 The most popular place to use the 1/3 offset is on shower walls. "It's a great aesthetic for larger tiles which minimize grout lines in the shower," Becca adds.
You can mix the 1/3 offset pattern with the traditional brick lay in the same room, though there are design rules to keep in mind. "If you're using the same tile on the walls and the floor, then the tile installation patterns should match. But, if you're mixing and matching different types of tiles and sizes, it's okay to mix different types of tile setting arrangements, as well," suggests Becca. "Ideally, you'd want to pair two different tile proportions if using different arrangement patterns within the same space."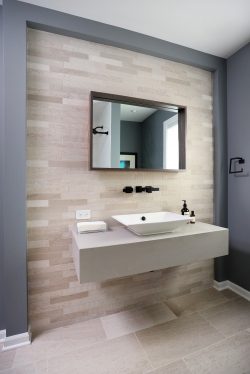 Larger tiles work best for stability and style when installing floor tile in the 1/3 offset pattern. "Especially on the floor, a 1/3 offset is usually done with tiles that are 12×24 for the best effect and comfort on the feet when walking," says Becca. Larger tiles set in this pattern minimize the potential for an awkward raw edge and decrease any tripping hazard from the natural crown you find in certain types of tiles.
Have you been debating the best way to lay tile for a fresh look in your project? Becca can assist with your kitchen, bath, or full remodel, from the big details down to how the tile will be laid. Reach out to discuss your vision and personalized needs. We're also on social. Project pictures and design ideas can be found on our Facebook and Instagram feeds.