Western Springs Finished Basement Wins NARI Award
These Western Springs homeowners wanted to expand the usable living space in their home. So, they did what many people do, and looked to their basement as an affordable way to further enjoy the existing footprint of their home. But in its current state, their basement was like many others; nothing more than a gray, concrete holding facility stacked with boxes and other items in storage.
They wanted this space to be a true extension of the other livable areas of the home where they could enjoy family game time, movie night, or host a party with friends and family. Normandy Designer Troy Pavelka began working with them to create a lower level retreat that seamlessly matched the aesthetics and appointments of the rest of the home. Troy helped them design an open and flexible floor plan that would allow for entertaining large groups as well as intimate family gatherings.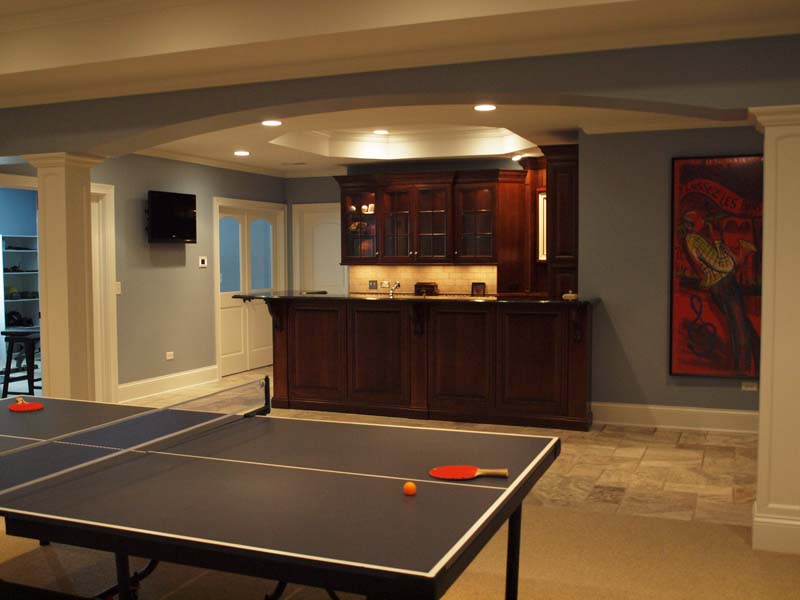 One of the ways Troy and Normandy accomplished this visual consistency was through the careful addition of details to match the rest of the home. Structural posts were concealed in decorative columns and the lower level fireplace matches one that can be found on the first floor. The bar area highlights an important piece of artwork for the homeowners and conceals the digital command center for audio and video functions in the space. The lower level also boasts a fitness center and full bathroom complete with steam shower.
"Our solution was focused around an open floor plan that allowed for flexibility, yet provided defined and organized space," says Troy Pavelka. "We created a bar area, entertainment area, and conversation area, that are all distinct defined spaces, but they allow for the three areas to blend together for larger gatherings." The homeowners now are able to enjoy intimate family movie and game nights, and easily accommodate parties and larger groups of friends, all in the same space.
This project has completely transformed their standard basement into a space that now includes a fitness center, game room, full bathroom, craft center, bar, and of course, storage. It's no wonder that this finished basement recently won a First Place Award for Residential Interior Remodeling from the NARI Greater Chicago 2010 Remodeling Excellence Awards
Read more like this: Troy Pavelka