Northfield Addition and Bathroom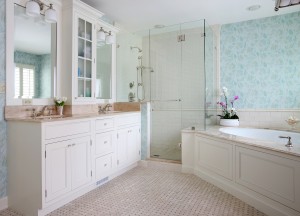 Sarah & Norton loved their Northfield colonial style home, but their growing family left them wishing for a retreat away from the hustle and bustle of daily family life.  They began working with Normandy Remodeling Designer Vince Weber to create a master suite addition to their home, that would allow them to recharge and be pampered with spa-inspired amenities.
The home addition created a spacious master suite and walk-in closet, the highlight of the new suite is the new master bathroom. The white painted cabinetry with traditional style details not only matched the style of the home, it gracefully met the client's desire for a bathroom that exuded "traditional luxury".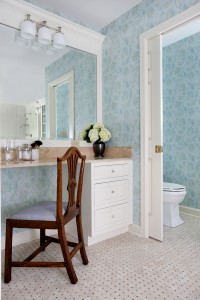 Marble and natural stone can be found throughout the bathroom, and modern amenities are hidden away to provide the ultimate in convenience without detracting from the aesthetic of the room. A generously sized shower features a marble basket weave floor and polished nickel fixtures. The whirlpool tub is flooded with natural light and is the perfect place to unwind after a long day. The makeup table has ample light and storage for perfumes, makeup and other toiletries; all within arms reach.
To learn more about how to prepare for an upcoming bathroom renovation, register for our Free seminar "A New Kind of Bathroom: The At-Home Spa Experience". Or you can request an appointment to meet with one of our talented designers; such as the designer for this project, Vince Weber, to discuss potential options for your home addition or master suite remodel.