The Extended Summertime Living Space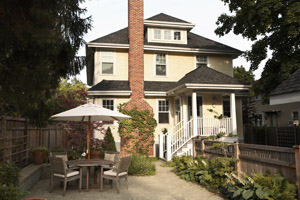 Now that we're in the heart of the lazy days of summer, we're reminded that "lazy" doesn't really apply to any of the days of summer. Between picnics, parties, weddings, and activities, it can seem like summer weekends get booked up almost before summer begins. But, weekends aren't the only time we have to enjoy this wonderful weather. Possibly the best part about Chicago summers is our long-awaited warm weather paired with bonus hours of sunlight, seemingly stolen time that is so often lost the rest of the year. The warm weather coupled with those extra hours of daylight translate into friendly gatherings, catching fireflies at dusk, or a stroll in the park. The yard really becomes the "extra" room of everyone's home during these fleeting summer months and there are some easy ways you can make the most of your largest room underneath the sun and the stars.
Good lighting, but not necessarily bright lighting. Choose something that can allow your enjoyment of these warm summer nights to extend past dusk that corresponds with your outdoor activities. Maybe just a strand of Christmas lights strewn across your deck railing provides just enough light for those firefly hunts.
Comfortable and appropriate outdoor furnishings that suit your lifestyle. If you are more apt to eat dinners (or even brunch) outdoors, then a traditional table and chairs will probably suit your needs best. If you are more inclined to open a bottle of wine and visit with friends then the newer styles of outdoor furniture that mimic indoor furniture (sofas, chairs, ottomans) would probably be a great fit.
Appropriate placement of the grill. One of the best parts of summer is the chance to play backyard chef and grill on the open flame. But every year we hear too many stories about a grill placed too close to the home that results in disaster. It's recommended that all grills (or outdoor fireplaces or heaters) should be 5-10 feet away from your home or flammable structure, which includes the wood deck.
All too soon, the leaves will begin to change and we will prepare for the beauty of our Midwestern fall. But for now, we can all enjoy the little gift that Mother Nature gives us each and every year.