Set to Celebrate Fall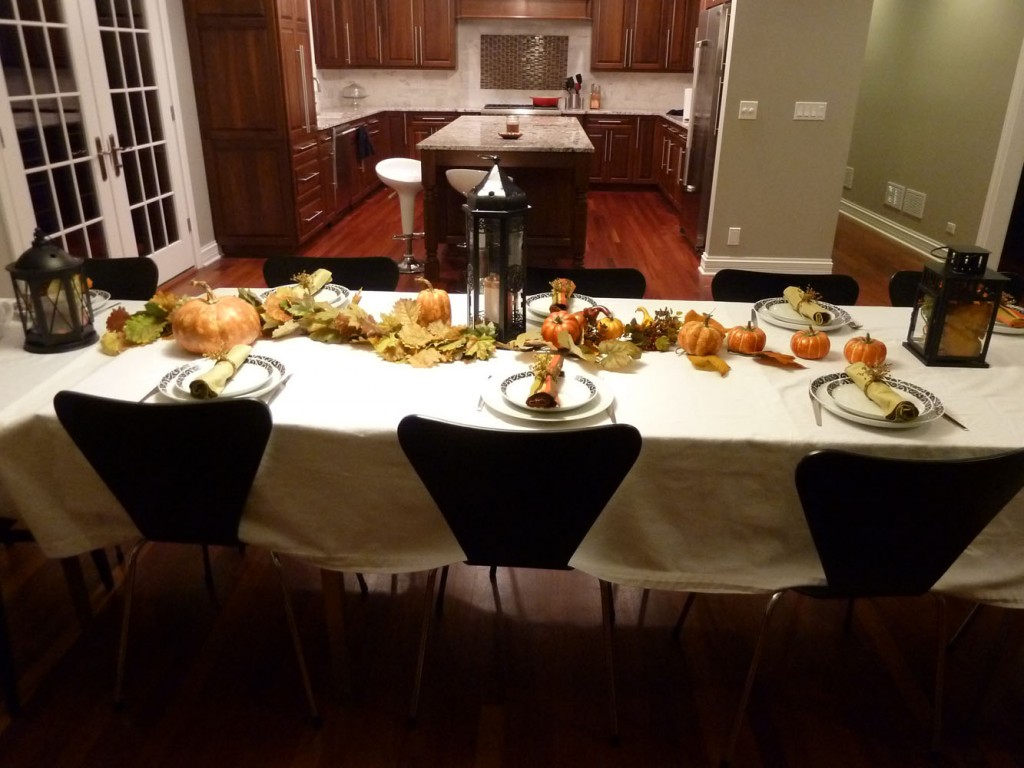 Normandy Designer Heather Dalskov hosted a dinner party this past weekend and was kind enough to share the table setting for her guests she received rave reviews. Here's what Heather has to say about pulling together this beautiful tablescape:
"When I do table settings, I like to find things around the house to use.  That said, I also buy a lot of tablecloths, placemats, napkins, etc. when I see things I like in the store when they are on sale.
I like how the table has elements in it that are rustic (the leaves, pumpkins, gourds, and some napkins), traditional (the lanterns and some dishes), modern (the cutlery, some dishes, and the chairs), and glam (the gold napkins and napkin rings).
I bought the lanterns one by one this summer when I saw cute ones that I like, and I was using them this summer in my garden as citronella candle lanterns.  So, I took them inside now for the fall.  In two of the lanterns, I took some basic craft store fall garland and pulled them apart into bunches of leaves, pumpkins, branches, cranberries etc. and I stuffed the lanterns with it. The tallest center lantern has a fall colored candle in it.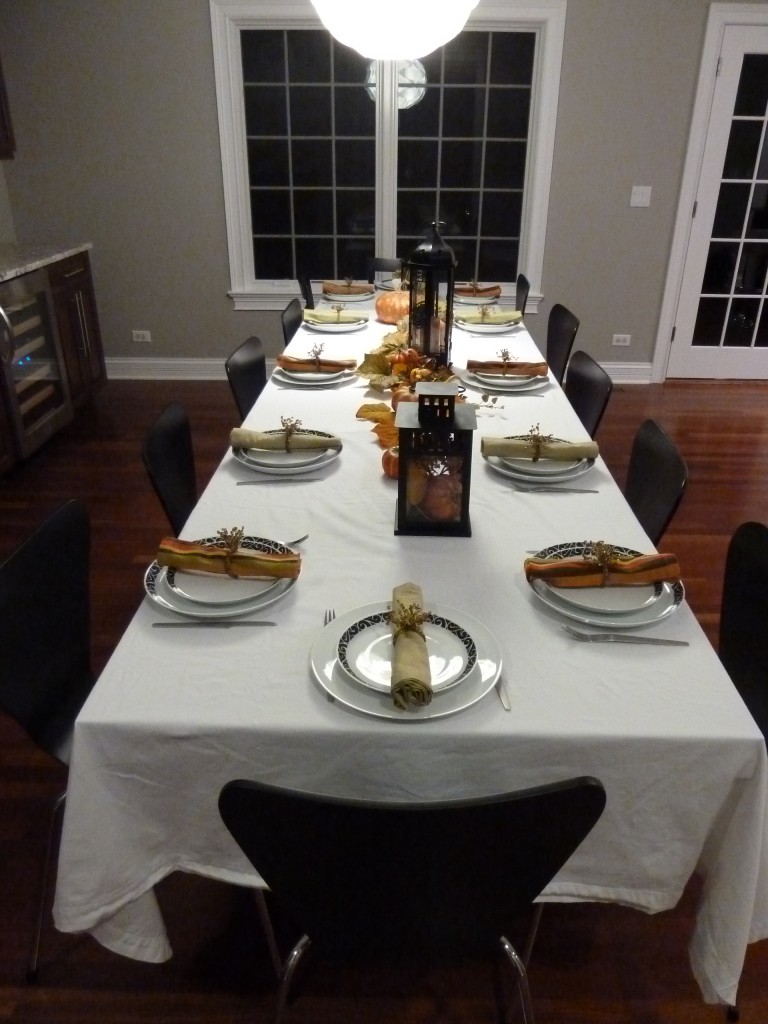 I took the rest of the craft store garland and spread it across the center of the table with some misc. pumpkins and gourds.  The craft store materials were mostly things that again, I collected over the years.
There are two types of plates on the table to create interest, and because I did not have 12 matching plates!  The black and white ones are "family heirlooms" so to speak.  They were my Mom and Dad's wedding registry dishes from 40 years ago.  They look good with the black finish in the lanterns.  The all white ones are very modern designed ones that I bought, and the cutlery is also very modern Danish design, which matches the modern Danish design chairs.
There are two types of napkins.  The first I bought several years ago for thanksgiving.  They are orange with brown, yellow and red stripes.  Then there are gold colored napkins which I used for Christmas last year but nicely complemented the rustic colors of the fall table.  The napkin rings are golden colored as well and I bought them many years ago.  They add a glam texture to the table along with the gold napkins with is a cool contrast to the rustic leaves."
Thanks for sharing your inspiration with us Heather, and for giving us loads of great ideas for our own tables in time for Thanksgiving entertaining!