Be Party-Ready Anytime With Your Newly Remodeled Kitchen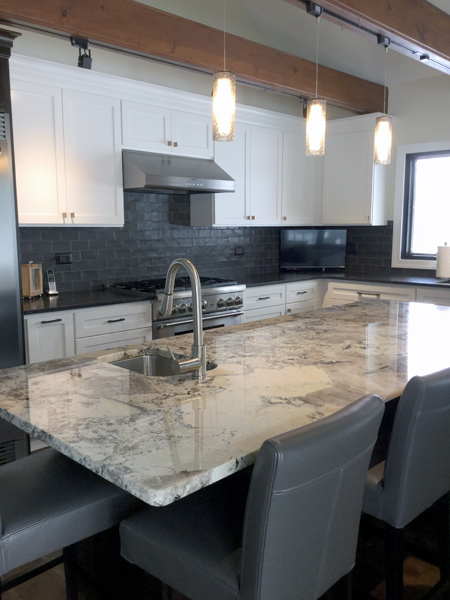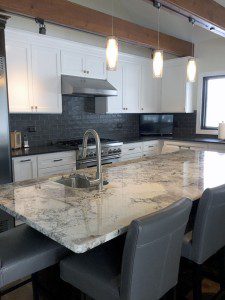 Having friends or family over for a visit can be a blast, but trying to get everything ready while you dodge people hanging out in your kitchen, not so much. If the whole point of a gathering is to spend time together, then the problem isn't your guests, it's the kitchen. We checked in with Normandy Designer Lisa McManus, ASID to find her favorite layout tweaks that will take the frustration out of entertaining.
Problem: Guests are getting in the way
Solution: "You've heard of a place for everything, well that includes your guests too. Think about creating special zones in your kitchen. Most of the food prep work involves the fridge, stove, and sink, so grouping these three together creates a work zone. Now see if you can find a place for a coffee station or wet bar outside of that area to create an entertaining space. This gives guests a comfortable place to gather that isn't in the middle of your work zone."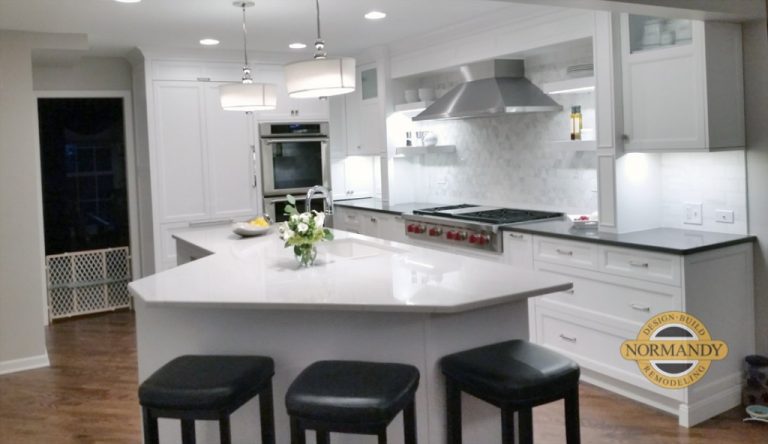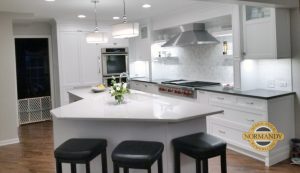 Problem: Overcrowding in specific areas
Solution: "It's important to make sure there is enough circulation. You want people to flow comfortably through the space. Wider clearances can help with that – especially in areas where people tend to congregate, like around the island or near a beverage fridge."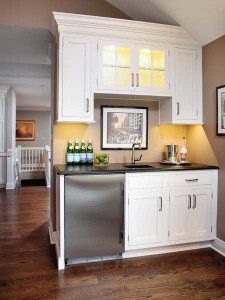 Problem: Entertaining items like stemware and serving ware aren't within reach
Solution: "Entertaining items aren't used all the time, so it doesn't make sense to store them with the items you use every day. But it can be a hassle to have to dig them out before every party. Going back to what I said about zones, an isolated area like a beverage center is a great spot to store stemware, barware, and alcohol. A small refrigerator can hold wine, soda, or bottled water. Cabinetry in this area can store things like serving trays, appetizer plates. Ideas like this are a win-win. You get a dedicated storage space and guests can easily flock to this area and feel comfortable serving themselves."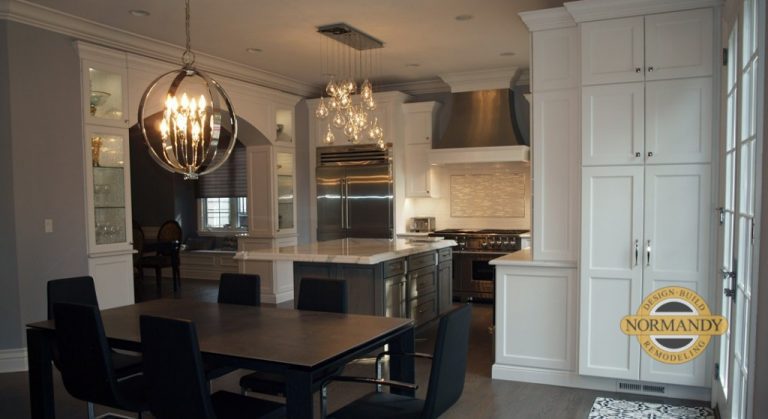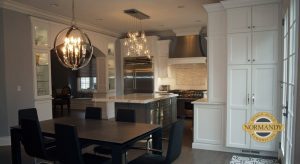 Problem: I can't fit everyone in my kitchen
"Lots of people have this problem, and the obvious answer is to make your kitchen bigger. Often that means knocking down a wall or two and expanding the kitchen into a formal dining room. You can put a kitchen table into that newly gained space, or add an island with seating. The best part of this solution is that it keeps everyone together instead of isolating a few in the dining room."
Entertaining means something different to everyone, but a smart kitchen layout can make every gathering more fun and less stressful. Set up a time to talk with Lisa about your current entertaining situation. Or, check out the Normandy photo gallery for more design ideas. You can also follow Normandy Remodeling on Facebook, Twitter, and Instagram or visit the Normandy Houzz page to get new updates and ideas.