Oak Park Remodel for a Growing Family
It can be difficult to live in a small, outdated space. But add young children into the mix and it gets even more complicated. This was the case for a growing family in Oak Park. With two small children, they were in desperate need of a functional kitchen and an updated first-floor bathroom. To get their spaces to fit their needs, they worked with Normandy Designer Karen Chanan.
"The original kitchen was not conducive to this growing family," said Karen. "It was small and closed off, with very little storage."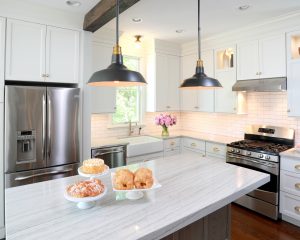 "We were able to turn things around by flipping the kitchen and eat-in area."
With the new positioning came plenty of new perks, including room for a large island, pantry storage, and a banquette. Now that there's an island, the parents have space to organize meals and activities with the kids. The banquette is also a great spot for kids to sit during meals and the countertops are quartzite, a natural stone that is a bit more exotic than granite. It's a beautiful option if you are looking for something special for your countertops.
The kitchen, once lacking style, now has a transitional meets rustic appeal. This type of aesthetic stays true to the character of the home and the homeowner's personal style. Side note-getting these two things to mesh is always important. The homeowners opted for white cabinets with gold hardware and a driftwood finish on the island and bar. A few other standouts include a farmhouse sink, light gray subway tile, and a rustic ceiling beam.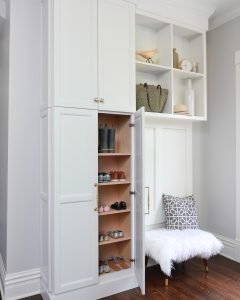 "The support header needed to remain in the kitchen, so we wrapped it in reclaimed wood," said Karen. "The color works well with the other finishes and overall it adds interest and character to the space."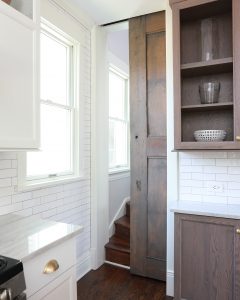 "Speaking of reclaimed wood, we also fashioned a custom door at the bottom of the stairs," added Karen. "The kid's bedrooms are at the top, so adding this ensured noise from the kitchen would not wake them during naps and bedtime."
Flipping the space also allowed for a side door with access to the garage and driveway – near the eat-in side of the kitchen. This was something that was important to the homeowners. And when you have young children, organized storage near an entryway is crucial – so a bench and built-in cabinetry were placed near the door. This will help keep coats and shoes straightened out.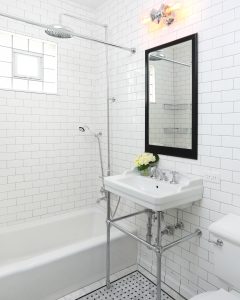 When it came to the full bathroom, the space was updated to have a vintage vibe. There's a console table sink, subway tile in the shower, and a basketweave floor tile. Overall, it's simple, yet stunning. A hand shower also makes it easy when bathing the littles.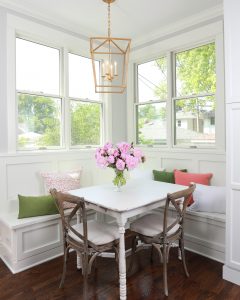 All-in-all, the kids in this home have a great place to grow up in, and the family is sure to make many happy memories in their beautiful home. If you are ready to design and remodel your kitchen around your family's needs, set up a time to meet with Karen. Or, register to attend an upcoming workshop to learn more about the process. You can also visit the Normandy Remodeling photo gallery or follow Normandy Remodeling on Facebook and Instagram for more inspiration and ideas.