Michigan Kitchen Remodel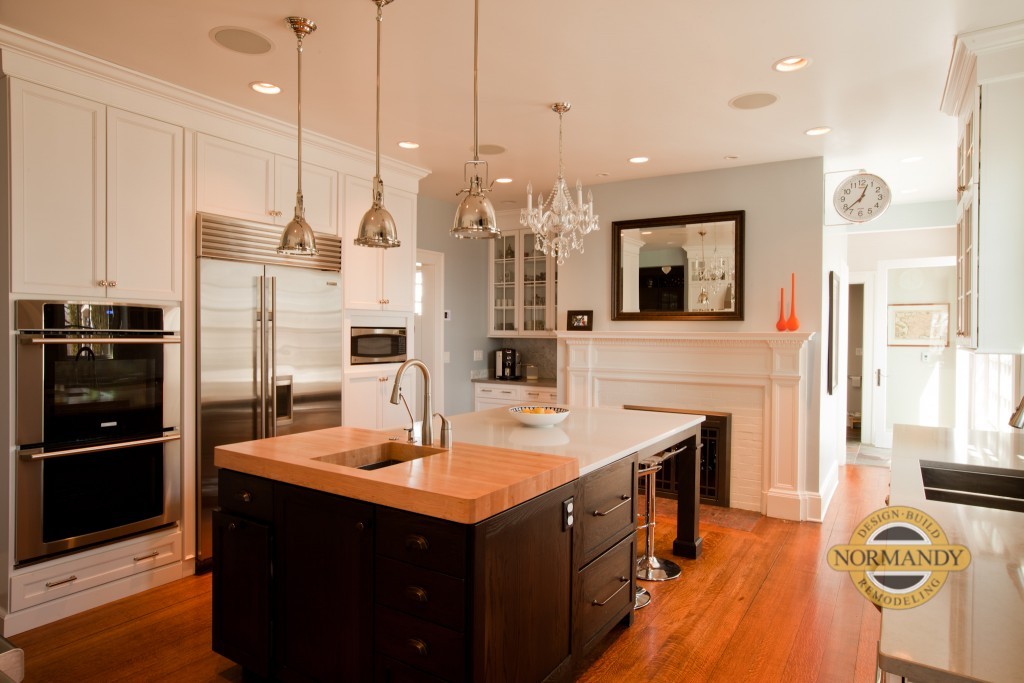 She is from Chicago, He is from Marquette, MI and when the time came for them to choose where to raise their young family, they found much of what they were looking for in a charming vintage home in Marquette. The home they selected had stunning lake views, but the current layout of the home didn't quite do the view justice.
Since the couple has ties to the Chicago area, they began working with Normandy Designer Chris Ebert to put their mark on the house. They wanted to capitalize on the natural beauty of their setting and create a home that was more in tune with their growing family's needs.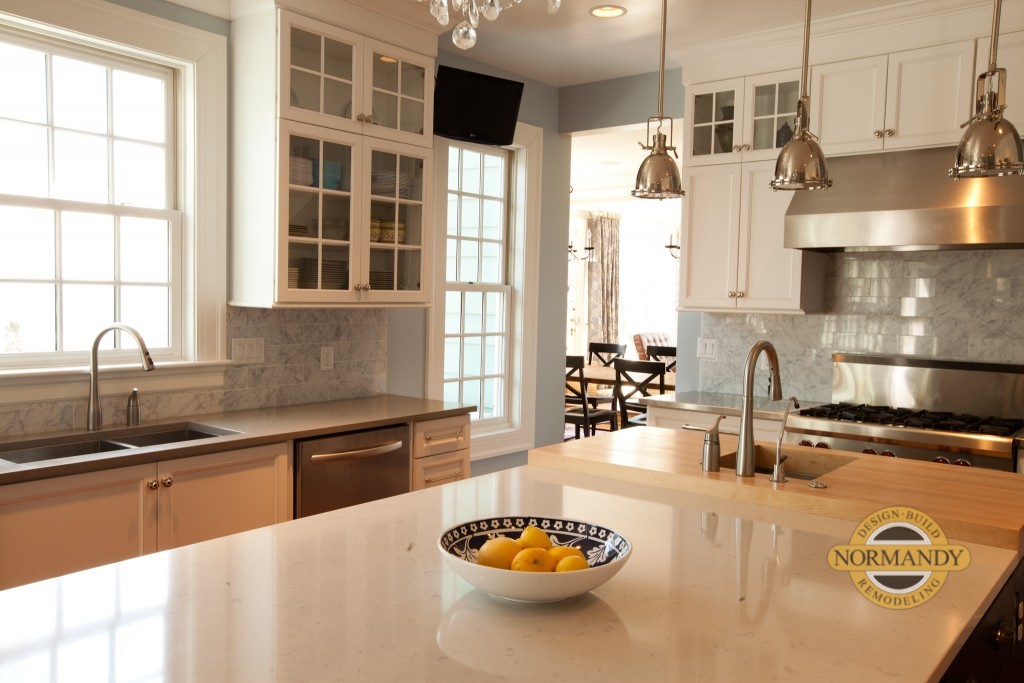 By repurposing a few rooms and removing a few walls, Chris was able to create a design that complimented the views as well as their lifestyle. The new kitchen took the place of the old dining room and provided a much better workspace for homeowners who love to cook and entertain. To maintain the existing footprint of the old dining room and now the new kitchen, a large walk-in pantry was created in an adjoining space so that ample storage would be easily accessible. To improve the flow of parties the bar was moved into the front entry hall, which allowed the kitchen to remain open and uncluttered.
The kitchen's working fireplace is a nod to its original function in the dining room but adds to the comfortable, vintage feel of the kitchen. The white painted perimeter cabinets with glass fronts are reminiscent of what one would find "back in the day".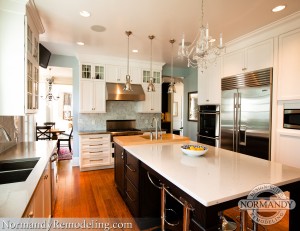 The large, dark-stained island boasts a second sink and seating for casual dining and conversation. The island has a Caesarstone countertop, which gives the look of Carrera marble but is far more durable. The butcher block counter at the end of the island has an abundance of lighting for prep work and houses the prep sink. The contrast in heights, colors, and textures of these two countertops provides a nice visual break for this long island while balancing the sleek look of the Caesarstone with the warmth and charm of natural wood.
The homeowners are enjoying their newly remodeled kitchen that is as comfortable on lazy Sunday mornings as-is it for bustling dinner parties.