Kitchen Layout and Design Go Hand in Hand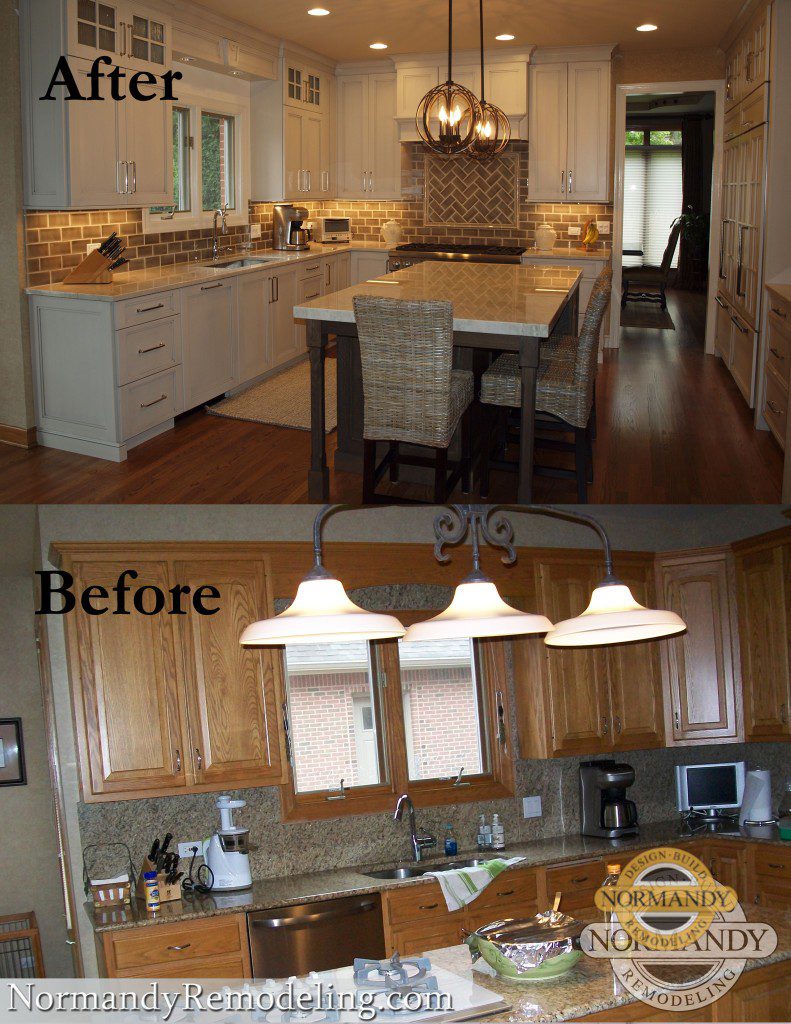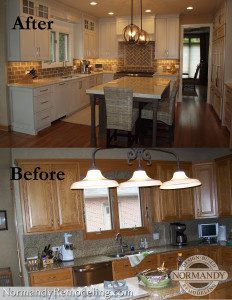 In most cases, a kitchen not only needs a fresh look, but a new and well-planned layout. This was the case in this outdated oak kitchen, which was lacking in both storage and style. The homeowners called upon Normandy Designer Leslie Molloy, CKD to transform their kitchen into an efficient and beautiful workspace.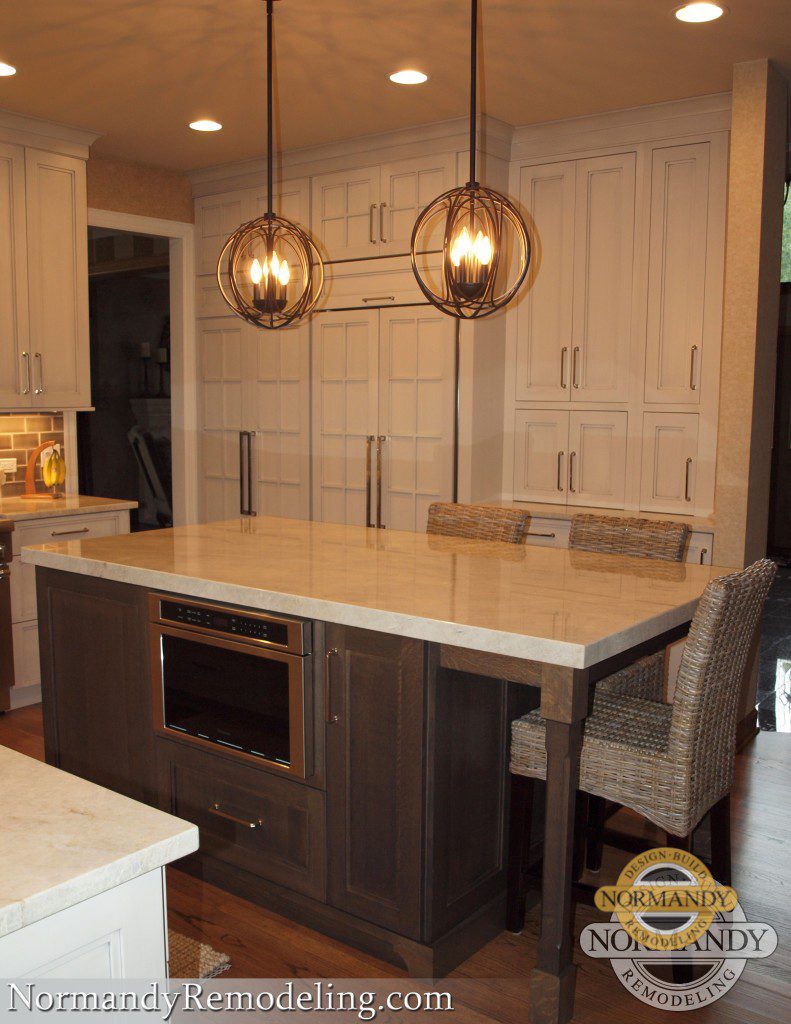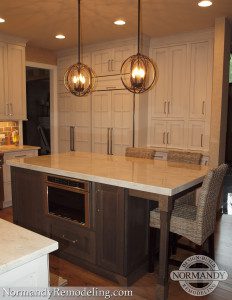 "The homeowners wanted to update the kitchen, but its current design meant that it didn't function very well," said Leslie. "It also lacked a strong focal point as well as adequate storage space."The biggest pet peeve in the kitchen was the placement of the cooktop. It was inconveniently located at the end of the island and lacked any useful space around it. This meant that things were always falling off of the side of the island.
"Right out the gate we moved the cooktop, and changed it to a range along the back wall," noted Leslie. "This provided the perfect opportunity for a decorative hood and beautiful tile backsplash, which become a nice focal point."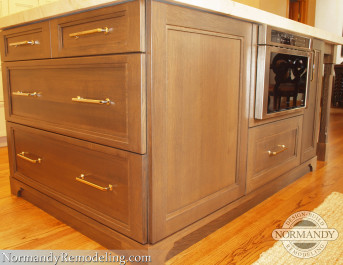 The current placement of the refrigerator and the shelving within the pantry was also less than functional.
"We relocated the refrigerator to the pantry wall, which helped open up the back wall," said Leslie. "We then added roll-out shelves inside of the pantry so that nothing got lost in the back."
"We were also selective with the panel for the refrigerator.  We chose paneling that with a bit more detail to distinguish it from the other cabinetry," added Leslie.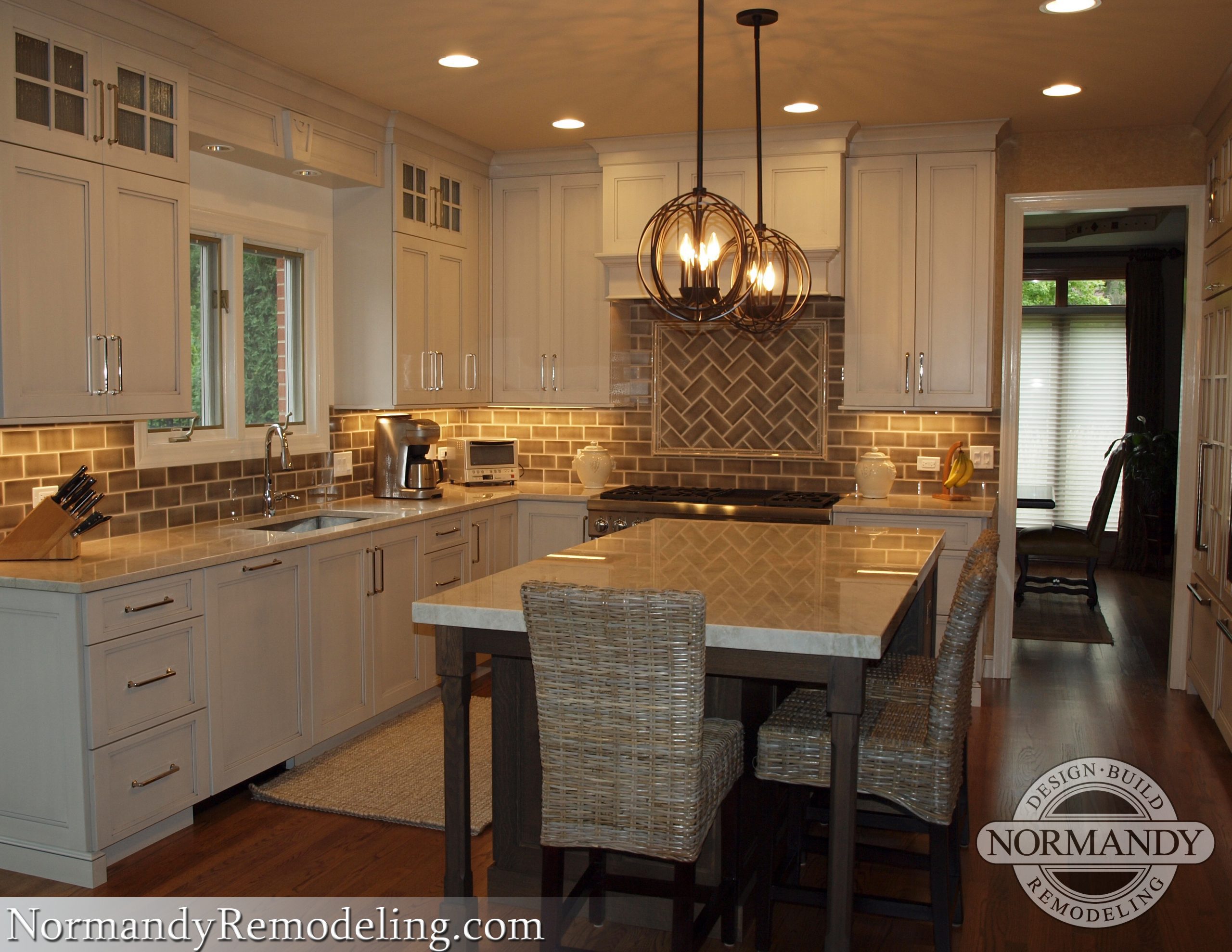 The clearances around the original island were generous, which permitted for a longer and deeper island that was more proportionate to the size of the kitchen. Stools were then added for additional seating. Adjacent to the fridge, cabinets with pocket doors were added to house a television.  This makes it easy to enjoy the morning news during breakfast but hide away the TV when entertaining.
If you're ready to get started on the kitchen you've always wanted, set up a time to talk with Leslie about improving your kitchen design and layout. Or, feel free to attend one of our upcoming kitchen seminars to learn about the design principles you should incorporate in your upcoming renovation. You can also follow Normandy Remodeling on Facebook and Instagram for design tips and inspiration.