Smoked Bourbon Brisket Recipe
Normandy Designer John Ballack has many passions. We all know that one of them is architecture, another is BBQ. Here is one of his favorite fall recipes for you to try.
"I love using my smoker in the fall, it's the perfect time for BBQ," said John. "I highly recommend this brisket recipe. It will quickly become a family favorite."
Smoked Bourbon Brisket with Peach-Bourbon BBQ Sauce Recipe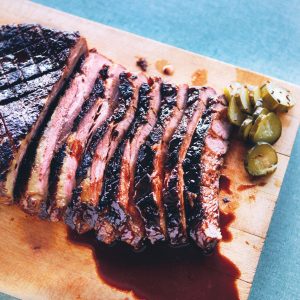 Buy a high-quality whole beef brisket or flat. Whole briskets are great for large groups. Flats are best for a smaller group.
BBQ SAUCE:
1 cup tomato ketchup
3/4 cup peach preserves
1/2 cup brown sugar
1/4 cup apple cider vinegar
1/4 cup Bourbon whiskey
2 tablespoons molasses
To prepare the sauce:
 Combine all ingredients in a medium saucepan over medium heat.
Bring to a boil, stirring frequently.
Reduce the heat to a simmer and cook for 20 minutes, stirring occasionally to prevent anything from sticking to the bottom of the pan.
Cool and transfer to an airtight container or bottle.
Refrigerate for 24-hours (before use) to allow the flavors to meld.
RUB:
1/3 cup brown sugar
1/3 cup sweet Hungarian paprika
1/4 cup Kosher or sea salt
1 tablespoon ground chili pepper
2 tablespoons of ground Cayenne pepper
1 tablespoon ground black pepper
1 tablespoon of onion powder
1 tablespoon cumin
1 tablespoon dried basil
BASTING SAUCE:
(Mix in a spray bottle…..)
4 parts apple juice
1 part Bourbon whiskey
ONE DAY IN ADVANCE:
Trim the fat off the brisket so there's about a quarter-inch left all around. You need some fat to keep the meat moist. And leaving too much fat on will prevent the smoke from penetrating the meat which gives it that great flavor.
Rub 2 tablespoons of olive oil on all sides of the brisket.
Generously apply the spice rub on all sides of the brisket. This thick layer of spice eventually becomes "The Bark" which is critical for moist and tasty smoked meat!
Place the brisket in a food-safe plastic bag, tie up the bag, place it in a bowl (the bowl catches leaks), and put it in the refrigerator for 24 hours. This step will help break down the meat making it tender.
COOK:
Preheat smoker to 225 degrees.
Use hickory, oak, or cherry wood chips for smoking brisket. You can mix them as well.
Place brisket (FAT SIDE UP) on the middle smoker rack (if you have a vertical smoker). Stick a meat thermometer in the thickest part of the brisket.-
Smoke for 1-1/2 hours per pound.
Halfway through, spray the brisket (lightly) with the basting sauce.
Baste again every hour or so after. But do NOT baste for the last hour.
Pull brisket off when the internal temperature reaches about 175 degrees. You will notice a thick black coating on the meat known as "The Bark". Don't panic…this is what you want!
Cover the brisket loosely with tin foil (known as a "Texas Tent") and allow it to rest for at least 20 minutes on the counter.
Place on a cutting board and slice the brisket (1/4 inch thick slices) with a sharp carving knife. Always slice across the grain which helps keep the juices locked inside.
Serve with a generous slather of the Peach-Bourbon BBQ sauce, your favorite sides, and a frosty cold beverage!  Life is good…!