Hinsdale Fine Arts Festival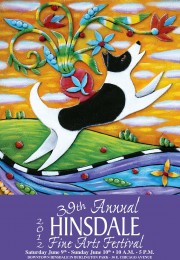 The crew at Normandy is gearing up for the 39th annual Hinsdale Fine Arts Festival, and is excited not only to be attending but also to participate in this great community event!  The festival offers artists an opportunity to exhibit and sell their work, and attendees will be able to view and purchase a wide range of artistic creations including Ceramics, Paintings, and Sculptures.  Entertainment will be available throughout the day, including a mixture of local dance companies, and there will even be chalk art for the kids to create!  Stop by the Normandy booth for an opportunity to win an artistic rendering of your home, or just to find out more about how we can incorporate unique and artistic elements in your upcoming home renovation.
Food and beverages will be sold and admission to the Hinsdale festival is free.  There's sure to be a great turnout, so be sure to come out on June 9th and 10th to join us in the fun!  For more information on the event, click here.