Bring Out Your Inner Betty Crocker
The Holidays bring out the baker in us. As December marches on, holiday baking ramps up and we spend a lot of time in our kitchen. Whether you are baking traditional recipes passed down from generations or baking in mass quantities for a cookie exchange, a well equipped kitchen is key. Below are some great ideas from Normandy Designer, Liz Reifschneider to help you bake not only during the holidays, but all year long.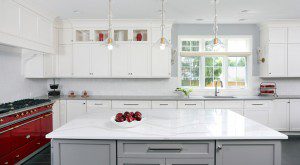 Countertop Height is Key– Depending on the type of baking you do most often, you may want to consider a custom height countertop. Tailored to match your own height, this will ensure you are completely comfortable when working, whether you're kneading dough or decorating 3-dozen cookies.  "An island countertop that's 2-3" lower or higher than the rest of the kitchen, may make a world of difference," says Liz. "It creates one large continuous work and prep space while keeping the rest of your surfaces at a standard height."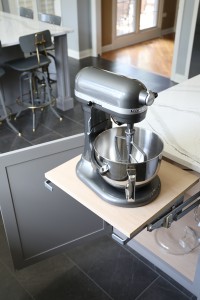 Storage Savvy– Eliminate the struggle and clatter when accessing cookie sheets by going to vertical storage. Well placed drawers for flour, sugar, measuring cups, and so on, create a baking zone, giving you easy access to everything you need. You may even want to splurge on a stand mixer lift with soft closure for your KitchenAid Mixer. "Keep in mind the stand lift will take up a full cabinet, so you've got to know you really will use it," Liz points out. "If you've got the space for it though, it is a baker's dream. Your back will definitely thank you."
The Right Oven (or Two) -Obviously, the oven is a baker's top priority. "You'll want to invest in one that offers additional features – like convection and steam options – so you can choose the baking/cooking mode that best suits each recipe," recommends Liz.  If you have space for it, double ovens let you bake twice as much in the same amount of time.
Incorporating these well planned adjustments to your kitchen will make your
next bake-off a breeze. Set up a time with Liz to start working on your space, or find kitchen inspiration at an upcoming workshop. You can also visit the Normandy Remodeling photo gallery or follow Normandy Remodeling on Facebook and Instagram for even more ideas.