A True His & Hers Bathroom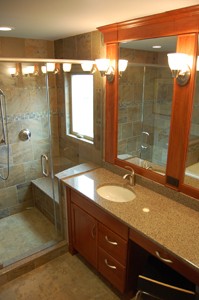 This recent master bathroom renovation by Normandy Builders' Ann Stockard took his & her concept that can frequently be found in today's Master Bathrooms and extended it further into the shower design.
These homeowners were able to greatly expand the size of their shower by shifting the layout of the space.  The rarely used bathtub was moved to the side, rather than remain as the primary focal point of the room.  By making this change, they created more space to upgrade their shower, both in look and performance.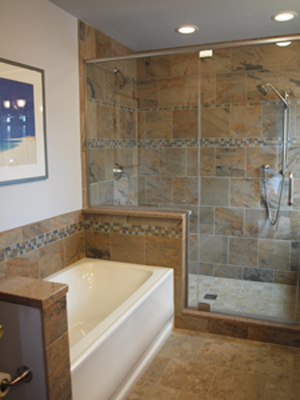 The shower boasts an integrated bench, a standard showerhead, as well as a secondary handheld shower.  The countertop for the double sink vanity was extended into the shower enclosure to provide a shelf inside the shower for "her" toiletries.  The sidewall for the bathtub extended a countertop on the opposing side for "his" toiletries.
Slate-inspired porcelain tiles are lower maintenance in a high water usage area such as the shower than a natural stone.  The mosaic glass tile accents enhance the warm cherry cabinetry and engineered stone countertops.
This newly designed Master Bath in Frankfort has become a serene getaway for its homeowners and promises years of future enjoyment.