A Master Bathroom Worthy of a Toast
After 12 years in the home, this young family was done living with a master bathroom that was worn out, outdated and not working for them.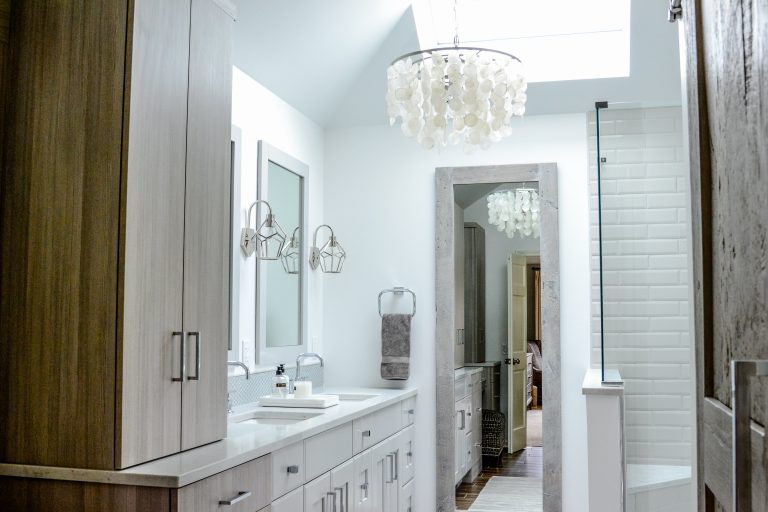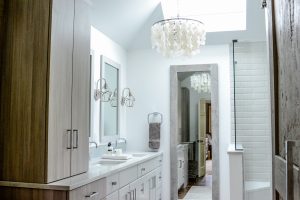 Prior to renovating, the master bath consisted of a large jetted tub, small standing shower, double sink vanity, separate water closet, and average walk-in closet. The existing flooring throughout was carpet, and was obviously not their first choice! Normandy Designers, Amanda Heyland and Troy Pavelka began working with them to identify what needed to change and discover their vision for the space.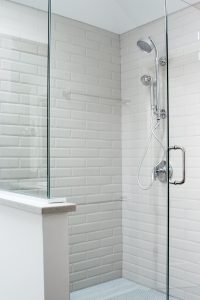 "They no longer wanted a tub in the master but desired a large standing shower with a small bench," Amanda said. Keeping a 2-bowl vanity was very important but they required more consistent lighting, and a place to sit and get ready.
The tub was removed, which provided space to grow the footprint of the shower. "Adjusting the vanity location allowed us to take advantage of the location of an existing large skylight," added Troy.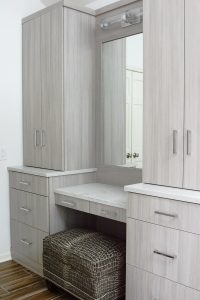 "To create the makeup area, we replaced the existing vanity with a low counter and dimmable LED sconce – perfect for everyday hair and makeup," says Amanda.
For fear that using the same cabinet material throughout could be "too much of a good thing," a slab door with a wood-grain, high pressure laminate finish was chosen. It beautifully complemented the rest of the finishes and brings a contemporary personality to the space.
The water closet was refreshed with new flooring, a light blue mini-hex that matched the floor of the shower. Flooring throughout the rest of the bathroom and master closet was is a wood-look, porcelain plank floor.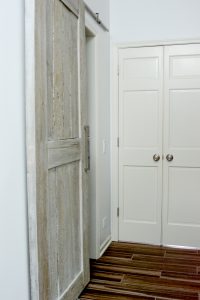 The space was rounded out with homeowner inspired personality pieces. A new barn door, made from reclaimed wood, was built and white-washed for the master closet. This was paired with a full-length mirror with a barn wood frame to match.
When it was finished, this master bathroom was everything they hoped for and more. They couldn't wait to start using the space; joking that they would lock the children out and share a bottle of wine on the floor.
Set up a time to meet with one of our award-winning designers to start your bathroom remodel. Or, register to attend an upcoming workshop to learn more. You can also follow Normandy Remodeling on Facebook, Twitter and Instagram or check out the Normandy photo gallery for more design ideas and inspiration.