Purr-fect Spot for Cat Bowls
Pets are treasured members of the family, and as such have a special place in our homes.  So when planning for a new kitchen, this family made sure to incorporate the needs of their cat, just as they would for any other member of the family. "Each person has a designated place to eat or drink, so it was natural to create the same type of space for the family pet," says Normandy Designer Ann Stockard.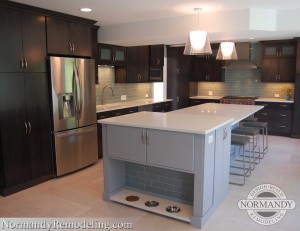 The end of the island was the perfect place to create a dedicated location for the cat's water and food dishes.  "We selected a man-made quartz product as the surface surrounding the bowls so that it would resist water damage and be easy to clean," says Ann.  Homes that include a pet typically have a dedicated space for their pet's dishes anyhow, and since this family is planning to spend many years in the home it made perfect sense to adjust the cabinets to meet the needs of their entire family, including their pets.
Accounting for the needs of your pet is just one of the ways that your kitchen remodel can be tailored to the unique needs of your home. Schedule a time to talk about your upcoming kitchen renovation or register for an educational kitchen seminar to get a primer on prepping for your remodel.